Wild Weather Slot – Tom Horn Gaming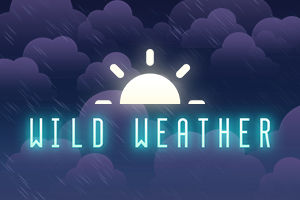 Weather can be a very tricky thing, have you ever been outside having a wonderful day when suddenly a crazy storm comes out the blue? Well, depending on the region weather can be either easy and predictable, or harsh and uncertain. Howsoever, nobody gets rid of experiencing, at least once, adverse weather conditions, and that's exactly what this game aims to achieve with its weather plot. Wild Weather is a 5-reel video slot game developed by Tom Horn Gaming, an elite platform with a huge reputation in the online casino industry because of remarkable features such as astonishing graphics, one-of-a-kind special features, and an overall polished design, which, of course, is what you can first experience in this game. Let's take a closer look at this online slot and what's the best way to squeeze the winning chances in it!
Impeccable and relatable
Weather apps have a signature look, and that's exactly the same you'll be able to see once you start playing Wild Weather. While design is not an out-of-this-world thing all of the icons are relatable and familiar as we get to see them on a regular basis in our cell phones. A blue background stands in the reeling area, and all of this is accompanied by minimalistic 2D illustrations of the different weather conditions and temperatures existing. When it comes to music, this game mixes a little bit of rush with tranquility, the song played in the backdrop has a whiff of an arcade game, so you can feel both calmed and excited at the same time. Let's see everything about the set of buttons in this game and what they're used for!
Dynamic and precise
Following the line of simplicity, this game has a very useful structure. In the upper center there's the title of this game, right next to a moon icon in the right side of the board. Similarly, there are 9 dots at both sides of the reeling area representing the 9 winning lines evaluated from both sides, and when it comes to the set of buttons, these are located in the bottom of the board.
From left to right, the first button to appear is one to sign in and out of the game, this button is represented by a house icon. Next to this, there are the + and – buttons to increase or decrease the coin size of the bet, you can choose among 0.10, 0.20, 0.50, 1, 2, 5, 10, 20, 25, 50, and 100. Following, there are two buttons (one of top of the other) being the first one the autoplay button which allows you to set a number of automatic spins among 5, 10, 25, 50, and 100, or to just set it automatically until you stop the autoplay; and the second one the Bet Max button with which you automatically select the highest coin size in existence. Moreover, next to this there's a spinning arrow with which you can activate the reels, and at the rightmost side of the bottom there's a button with a letter "ï" where you find information of the game symbols and special features, and a speaker icon to activate or deactivate sound effects.
Wild Weather features
This game integrates 10 symbols related to weather, an electric storm symbol, a snowflake, a storm, a partially sunny symbol, a cloudy symbol, and 30, 22, 10, 0, and – degrees temperatures. The wild symbol is represented by the sun, 3, 4, or 5 of these will grant 5, 10, or 15 free spins respectively. Additionally, when the sun lands anywhere on the screen during free spins, the expanding mega wild will be activated, filling a square of 2×2 symbols around the wild. The wild symbol appears only during free spins and it substitutes all symbols. On the other hand, the wild tornado serves as the vertically expanding wild. This symbol appears in any reel while playing the base game, and it expands to cover the whole reel forming a winning combination.
Conclusion
This game is quite interesting when it comes to the winning opportunities with the expanding wilds and free spins. It also has a unique style full of sobriety and seriousness.