SuperiorShare Newsletter – November Edition
November Edition
Casinos News & Updates
Pre-Xmas
Black Friday
Loyalty Programs
Weekly Promotions
Program News & Updates
Malta Sigma
Game Reviews
Pre-Xmas Promo
Birthdays
Letter from Editor
The countdown to Christmas has already begun for us at SuperiorShare. From special promotions and super high rewards for your players, they'll be surely something for everyone this jolly time of the year. We want to make sure you earn as much as possible this holiday season with all the rewarding offers our Casino Manager, Pascal Chevalier, is preparing for new and existing Superior and 24VIP players.
Pascal has already prepared a Pre-Xmas offer to get everyone in the festive mood with tons of Free Spins, Giveaways and Love. You got that right, love! Our casinos' main focus this season is for your website traffic to take part in the most entertaining time and truly feel the love in the service they offer.
Casinos News & Updates
Pre-Xmas
The festive season is already here with tinsel, twinkling lights and special offers popping up from all directions. Your players will feel the Christmas love when they deposit $25 from November 15th and until December 15th to enjoy 224 Spins on Winter Wonders.
Feel the Love
Superior & 24VIP Casino
New and Existing players
224 Spins on Winter Wonders Slot
From Nov 15th to Dec 15th
Can be redeemed once per week
Spin value: $0.15
Deposit: $25
Wagering: 25x
No max cashout
Black Friday Offer
Black Friday is coming to swoop in and help your players save, play and win. Players with at least 1 deposit in the last 15 days will be eligible to play with 23 Free Spins available on November 23rd for twenty-four hours only. And the Black Friday deals continue with 230 Spins available on Almighty Dollar during the entire weekend (Nov 23rd to Nov 25th) for depositors of $30 and up.
23 Free Spins on Almighty Dollar Slot
Players with at least 1 deposit in last 15 days
Available 24 hours only
Spin value: $0.15
Max cash out: $100
Wagering: 25x
Plus
230 Free Spins on Almighty Dollar
Superior Casino
New and Existing Players
Available entire Black Friday weekend (Nov 23rd to Nov 25th)
Spin value: $0.15
Deposit: $30
Wagering: 25x
No max Cash out
Loyalty Programs
Superior Casino and 24VIP both feature some of the most rewarding Loyalty Programs in the industry.
Superior Casino's VIP club is divided into Special, Club, Premium and Elite levels. Players can enjoy Wednesday's Happy Hour Cocktails interchangeable for real cash worth up to $75, Free Chips on Sundays, Weekend Cashback, Superior Points for Slots, Free Gifts and Weekly Bonuses.
24VIP's Loyalty Program is comprised of four levels – Silver, Gold, Platinum and Diamond. Members can claim special Weekly Bonuses of up to 250%, Daily and Monthly Cashback and Comp Rewards that can be exchanged for real cash over time.
Weekly Promotions:
Superior Casino Promotions:
Conversion: http://r2.dmtrk.net/t/41M3-18KX-87T7JWP62/cr.aspx
Retention: http://r2.dmtrk.net/t/41M3-18F6-87T7JWP62/cr.aspx
24VIP Casino Promotions:
Conversion: http://r2.dmtrk.net/t/41M3-18KS-87T7JWP62/cr.aspx
Retention: http://r2.dmtrk.net/t/41M3-18A0-87T7JWP62/cr.aspx
Program News & Updates
Malta – SiGMa
The fifth edition of SiGMA will be taking place in Malta between the 28th and 30th of November and SuperiorShare will be there. We'd love to meet in person with you so don't hesitate to set up a meeting with your affiliate manager at [email protected]. The Mediterranean is calling; hope to see you there!
Game Reviews
SuperiorShare provides a directory of reviews for virtually all games launched in 2017 and 2018. Make sure you use this resource to promote our casinos with your website's visitors before they make their first deposit. Players will most likely head instantly to that game that was already recommended by their affiliate's website.
Feel free to contact us for access to these games reviews, graphics and more.
Pre-Xmas Promo
Christmas came earlier this year with SuperiorShare's special Pre-Xmas promo. The holiday excitement is already starting to build and Superior & 24VIP Casino's new and existing players will be feeling the love with 224 Spins on Winter Wonders Slot available from Nov 15th through Dec 15th.
Spread the holiday cheer from this moment on with our landing pages, social media ads and banners. Contact us for access to this promotional material.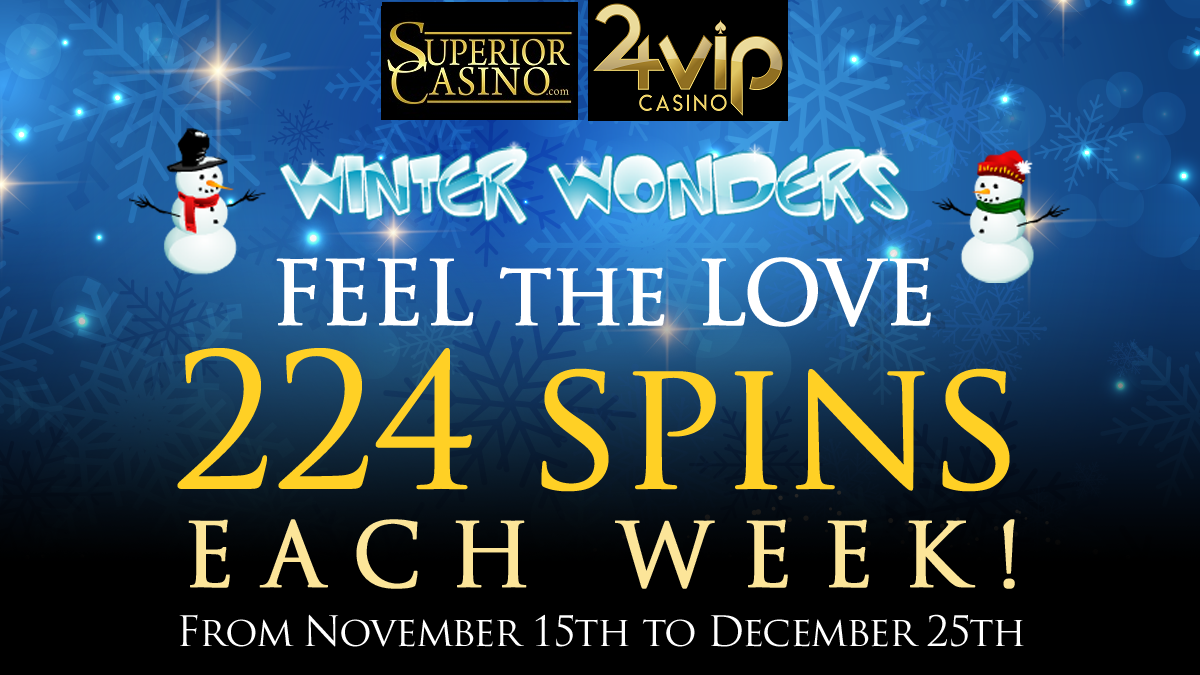 Birthdays!
We want to congratulate to all the affiliates whose birthday is in November.
We wish you another year of health, peace and prosperity!
vivavegas
tperson
bpreston
stemat
bobb15
grattag888
smoking
tollus
universal4
ebookies
charlesjay
celena
bonuszoo
bandit12
inodeposit
Feedback
We want to hear from you. Please, drop us a line and let us know how we are doing and how we can improve.
SuperiorShare Affiliate Team