Rival: Fruit Splash Slot Review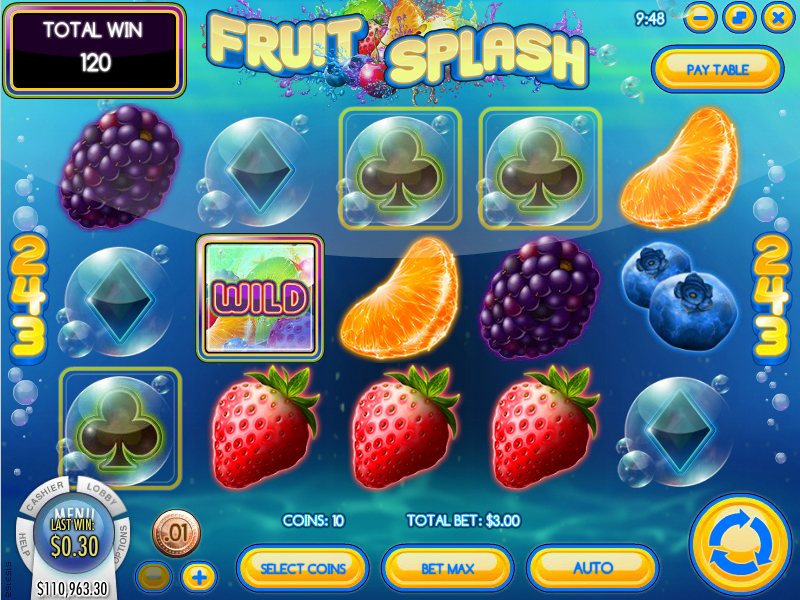 Nothing is as refreshing as a bowl of freshly picked fruit – expect for a bowl of recently landed rewards on the reels of the new Fruit Splash. This new 30 paylines and 5-reel slot is made up of colorful and energizing winning chances and special features that make winning a delight!
The reels are decorated with all things fruit – and bright colors that make this one of the sweetest slots around. Yellow, green, blue and red color combinations make this a real treat for the eyes with more pleasure coming from the realistic sound effects every time a win occurs.

The available coin sizes that can be used in Fruit Splash range from 0.01, 0.05, 0.10, and 0.25 (configurable). Players can spin the reels with 1 to 10 coins wagered per line and the default wager configuration is $0.01 coin × 8 coins per line × 30 lines = $2.50. The default jackpot amount is $40, and the max jackpot is $1,250. This game is also available for players to play in UK Pounds, South African Rands, Euros and Australian Dollars.
Symbols
The symbols that appear on the reels of Fruit Splash are a real delicacy with all kinds of fruit up for grabs. Deliciousness in Fruit Splash is possible with a bite of oranges, blueberries, kiwis, strawberries, raspberries, cherries, blackberries, apples, and limes.
Special Features
Fruit Splash Slot features a Wild Sticky, which makes chewing for prizes a lot faster. These go down whenever the starfruit symbol makes an appearance. This wild will stick to the screen to trigger an extra spin and even more chances of landing wins. Landing additional sticky wilds will trigger extra spins and extra fruit flavor for all!
Fruit Splash Slot is available at Superior Casino, 24VIP Casino and the new 888Tiger Casino.  Login to SuperiorShare.com and download your banners today!