Promote Snow Wonder Slot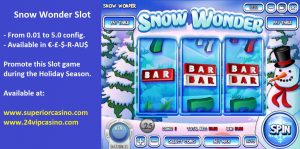 The most wonderful time of the year goes hand in hand with Superior Share winning chances and your players are likely to score some jolly wins when spinning the reels of the free slot and classic 3 reel game Snow Wonder. This game is a popular choice during the holidays not only due to its traditional simplicity, but also the cool design and winning opportunities that come with every spin.
This Christmas slot features just one payline, however the chances of collecting huge wins are pretty huge. With a cheerful yet simple design with a classic Snowman on the right hand side, players are likely to enjoy the Snow Wonder slot during the holiday season and beyond when they spin for wins with help from symbols like silver bells, candy canes, joyful green, red and white classic 7s plus red and white looking Bars, boughs of holly and pinecones.
The symbols and images your players want to pay special attention to these holidays, in addition to the Santa Claus image that will soon appear flying over the sky, are the boughs of holly image. Whenever bettors land 3 of these on the payline, they will be able to collect a whopping 2500 coins prize. Not bad for a Christmas slot with just a single playline! Moreover, the pinecone image will also have players feel the cheerfulness when lading 3 of these to claim a 450 coins prize. Landing 3 White 7s will pay 225 coins and 3 Silver Bells will award a 300 Christmas filled prize.
The jolly-good Snow Wonder slot can be played with 1 and up to 3 coins with betting options starting from 0.10, 0.25, 0.50, 1, 2, 5 and all the way up to $10. The total default bet is set at $1.50 and with the 2500 jackpot prize, your player will actually be playing for a massive $25,000.00 jackpot prize.
Contact SuperiorShare for more details on how to promote this slot game.