Party Parrot Slots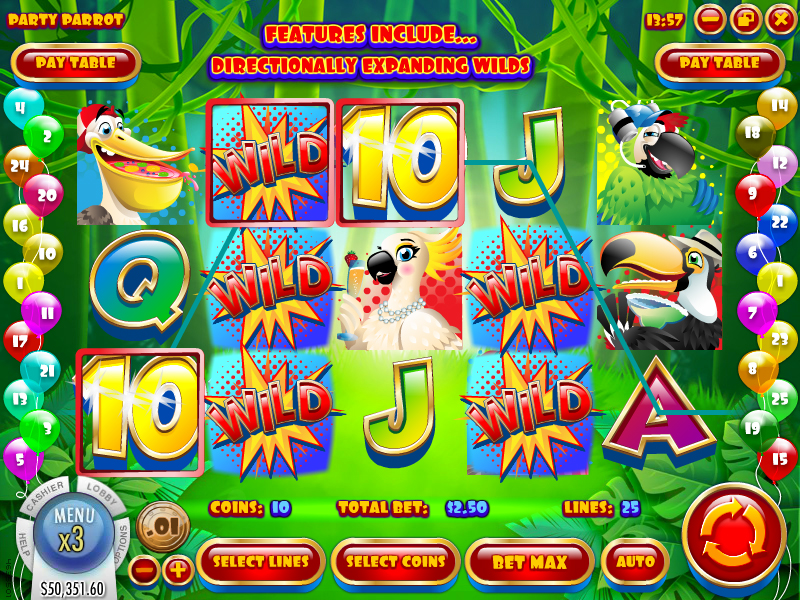 Game description
What's a parrot's favorite game? It's hide and speak! You know parrots; they're funny, quirky and smart! And they have decided to join in the world of slots and have done it party style. Far from your average feast, Party Parrot is an exciting new slot where the main characters are the world's most colorful and beautiful birds that have gathered to celebrate with Free Spins, Expanding Wilds and Sticky Symbols.
Join the bird party by making a small deposit via Bitcoin or any other of our safe and secure deposit methods found in the cashier area.
Spin the 5 reels and 25 paylines of this hilarious video slot that's all about the main character Pete the scarlet macaw and his many friends that have congregated and joined forces to throw the craziest and most fun get-together of their lives – and they've decided to send an open invitation to anyone that wants to join in!
The available coin sizes that can be used in Party Parrot are 0.01, 0.05, 0.10 and 0.25 (configurable). You can choose to play with 1 up to 10 coins wagered per line and the default wager configuration is set at $0.10 coin × 10 coins per line × 25 lines = $2.50.
Symbols
The symbols on the reels of Party Parrot are flying all over the place – and of course they are, they're partying hard! Pete is in charge of planning this crazy event, but he's not alone. The reels of this slot are also packed with other fun guests, including the green parrot, the cockatoo, the pelican, the penguin, the toucan, the flamingo, the egg and the parrot balloons.
Special Features
There are tons of interesting features that pop up left and right when playing Party Parrot. You'll be cashing in some serious party favors when landing the green parrot directionally expanding Wild symbol. Also, when landing 5 of the Egg symbols, you'll be triggering up to 20 Free Spins to collect even more wins if a Sticky Wild red parrot balloon appears during this round.