Our Journey to Amsterdam IGB
A look into the future of gambling!
The 2019 iGB Affiliate Conference in Amsterdam was a total success as it gathered more than 5000 attendees from all parts of the globe, with over 200 expositors showing the latest trends of the gambling industry.
Lots of networking events were available for people to get to know about those behind SuperiorShare and Connie Burstin, our own Affiliate Manager was there in Amsterdam from Canada to show why the company is one of the best options for affiliates to join.
The first day was everything we expected, with all the booths looking (and sounding) like a land-based casino, and hundreds of people trying out the new casino games from operators.
Connie met many of our current affiliates from all different backgrounds and countries such as Serbia, UK, Australia, Israel, Argentina, Ukraine, Slovakia, Italy, Malaysia, Malta, Chile and even from Costa Rica. After all meetings were done, it was the time to had fun. That day IGB had an official networking party at night, where affiliates and attendees were able to enjoy themselves while playing, drinking and dancing – everyone had a blast.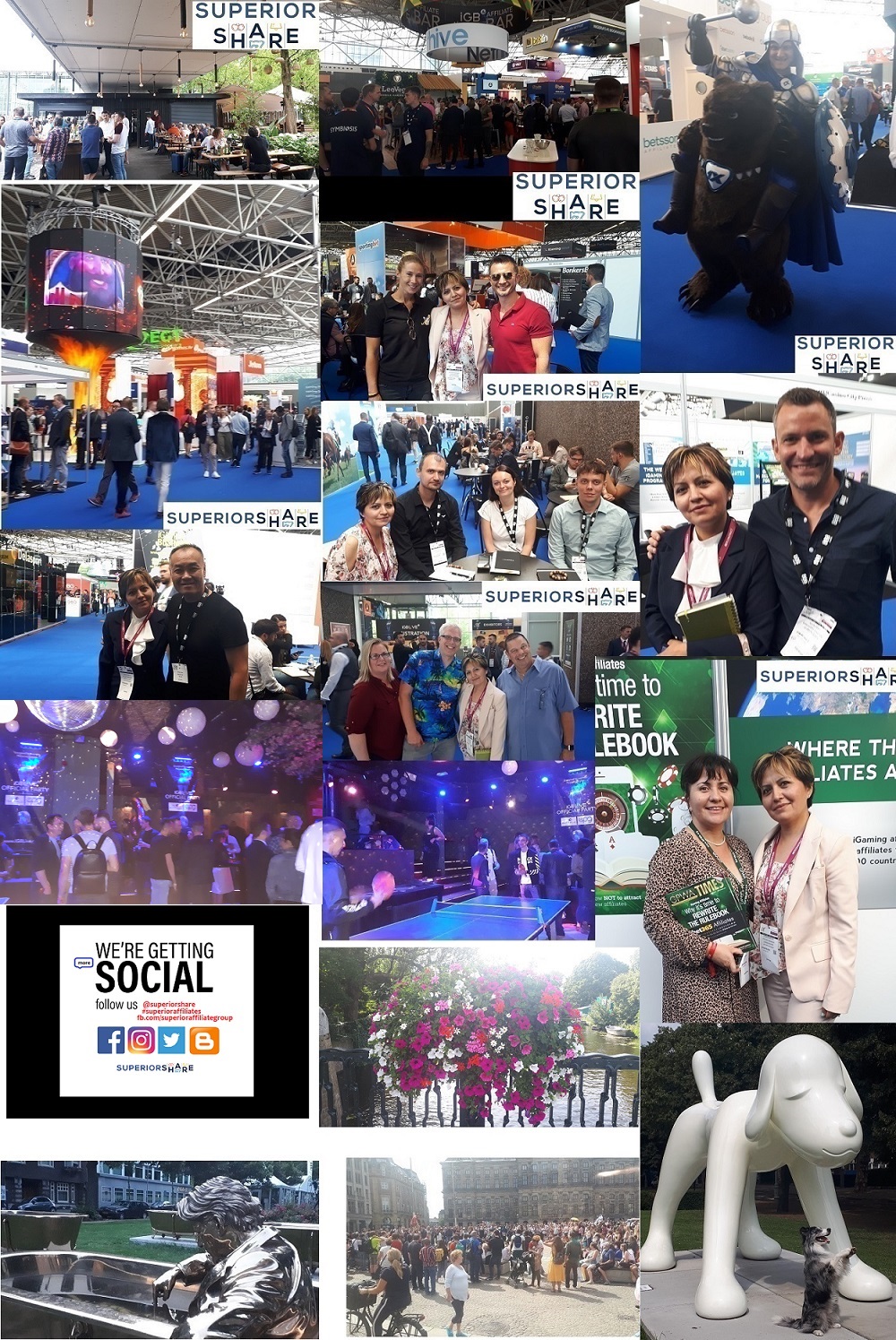 There were different topics of discussion at the conference such as looking for new niche markets, social media impact and also cryptocurrency marketing to players worldwide.
Cryptocurrency is one of the most popular currencies at online gambling sites with specific markets, and casinos are aiming to make everything work independently and in a verifiable way.
As you know, our casinos are now actually offering Instant Bitcoin Deposits, which is a unique niche that affiliates can promote and facilitate the conversion from potential player leads.
Booth presentations also included the benefits that Facebook live can bring to the online gaming industry. Experts and amateurs can talk about strategies and opinions on bets, as well as branding and exposing new technologies related to online casinos.
One of the niche markets people were talking about is Brazil. This nation is a rising force in the gaming industry and affiliates should turn their head to them, as numbers show a growth in their potential as a gambling market, which is becoming more and more part of their culture.
We would like to thank iGB and the whole team who put together this incredible event. People seem to look comfortable and relaxed at Amsterdam, making it's one of the best places on earth to host an affiliates conference. We at SuperiorShare can't wait for next year!