New Video Slot LIVE!
Greetings from Superior Share!
Once again, we are proud to announce the launch of our New Video Slot: CREAM OF THE CROP, along with custom banners, landing page and review.
"It is a favorable season at Superior Casino. The seeds of hard labor have finally brought forth the fruit, or should we say "the vegetables", with the release of a new video slot: Cream of the Crop.
This carefully crafted 5-reel slot will provide a new experience to online slot players. They will visit the rural landscape of cultivated fields and participate in the timeless activity of agriculture. Player will be able to harvest decent jackpots as they line up vegetables, flowers and treasure chests on the 5 reels."
Click HERE for full game review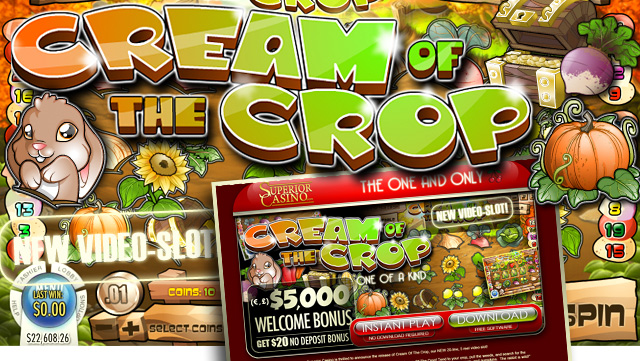 You will find banners in the Member's area. Simply filter creative by Landing page URL (Cream of the Crop LANDING) or by game.

May you have any questions or need feedback with your campaign management , feel free to contact us and we'll be happy to assist you.
With best regards,
Superior Share Marketing Team