New Video Slot and Game themed Page LIVE!
Superior Share Affiliates,
We are on a roll… a never-ending roll of online slot games releases and this time, along with our new affiliate tool: Game Themed Landing Page (Read more below)
We are thrilled to announce the launch of our new 5 reel video slot game. Get ready to party with Roll Out the Barrels! This fun 20 payline video slot pays tribute to the world's most famous fair: Oktoberfest. It's time to take part of this German tradition full of beer, food, music and pretty ladies. Roll Out the Barrels is full of opportunities to cash in with extra fun features including the ever-so-popular free spins feature and a crazy bonus round game.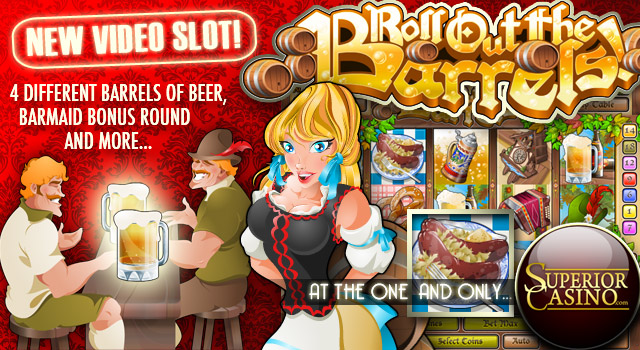 We have prepared a set of themed banners for this release in:
468×60, 125×125, 120×240 & 250×250
.
Each banner is pointing to our Game Themed Landing page!
Click
HERE
to view our new page

You can also view our exclusive game review and Screenshots
HERE
(Please do not duplicate the content shown on our blog) If you use any of this information, please specify our blog as the source of the information.
Landing Page Advantages:
• Send your players to a themed and attractive landing page with our new game graphics.
• Give more consistency to your "New Game Release" campaign by using themed banners and themed landing page.
• Get more signups and unleash your commission potential.
Instructions of use:

1. Click on Campaign Manager tab or create a new one
2. On Manage section, please click on "Show Banner Choices"
3. Filter creative by Game or by Landing Page. If you choose by game simply select ROTB and click "Add"
4. If you use landing page, make sure you choose "Roll out the barrels Video Slot" from the drop down menu
5. Choose your banners or text link and grab the tracking code.
May you have any questions or need feedback with your campaign management , feel free to contact us and we'll be happy to assist you.
With best regards,
Superior Share Marketing Team
General Inquiries: [email protected]