New Game: Party Parrot Slot
ANNOUNCEMENT – NEW SLOT GAME
PARTY PARROT SLOT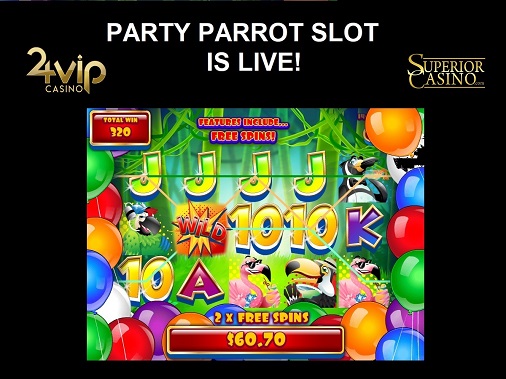 Beautiful birds, exotic birds, colorful birds: Superior Casino and 24VIP have got them all and these feathered creatures are ready to party. But not just any kind of party, it is a truly unique one. Have your players catch a glimpse of the most vibrant birds to ever roam the reels in the new "Party Parrot" video slot. This is one event bettors don't want to miss and luckily for them, they're all invited.
"Party Parrot" is a hilarious 5 reels and 25 paylines video slot that features 8 of the funniest and most peculiar birdies.

Your players will join a party where guests arrive in full-plumage and include Pete the scarlet macaw who's the leader of the pack, penguins, toucans, flamingoes and even parrot balloons that burst when a win occurs. With their acrobatic antics, captivating colors and silly personalities, the avian characters in this slot are hard to resist and soon enough, everyone will be joining the festivity. Claiming wins is easy with help from Bonus rounds, Wilds and Scatters.
The available coin sizes range from 0.01, 0.05, 0.10, and up to 0.25 (configurable). Players can use 1 to 10 coins wagered per line and the default wager configuration is $0.01 coin × 10 coins per line × 25 lines = $2.50. The default jackpot amount is $75 and the max jackpot is $1, 875.
The vibrant hues of the birds in "Party Parrot" are unlike any slot out there and will surely captivate players in an instant. Contact us to promote this online slot with custom-tailored marketing material such as landing pages, banners and more. Your bettors are going to want to RSVP for this party!
If you have a forum or opt-in mailing list, we would like to discuss with you on how to promote this new game with your members.  Login to SuperiorShare and download your banners today!