Monster Madness Slot – Tom Horn Gaming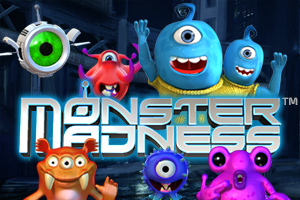 Have you dreamed of what the world is going to be like in the future? Do you believe we are not alone in the universe? Then Monster Madness is definitely the game for you. Playing this game will take you to travel in time to a world where monsters, aliens and, drones are all real. The friendly monsters will accompany you through this futuristic journey where drones will enhance your winning possibilities. Developers from Tom Horn Gaming made sure this game displays an awesome space-age design with an ultimate background and visionary sound effects. You can play it on your mobile or desktop so don't miss the newfangled fun that awaits you.
Are you ready to jump into this time machine to get to know the coolest characters while having fun with this spin-the-reel game? Let's break it down for you.
Out-of-this-world amusement
You may wonder how developers managed to create this pioneering gameplay atmosphere without seeming fatidic; easy, they focused on displaying a background picture full of blue and silver which makes you feel calm yet excited with the view of an over-the-horizon city. On the other hand, the characters of the game are colorful and imaginative, music immediately transports you to the rush of a big city, and when it comes to buttons and icons these are structured and simple. Let's see more in detail the button's section and how to play with it!
A monstrous spinning revolution
Monster madness is a 3×3 video slot game with 8 fixed win lines available, that is why the reeling area is a small yet captivating square full of monsters located on the left side of the game. On the right side there is the title of the game in the upper section, and right below this a two-headed monster floating on a flying saucer. In the opposite end, the bottom section is where the buttons are located, being on the downer left a house icon to exit the game, a menu for Help and Options, and + / – buttons to increase or decrease the bet among 0.20, 0.50, 1, 2, 5, 10, 20, 25, 50, and 100.
In the middle there's a section showing your win amount, and on the downer right there are the buttons to spin the reels (Autoplay, Bet Max, and Spin), and the buttons to activate/deactivate sounds, and to find the paytable information.
Monster Madness features
This game possesses 4 high symbols and 3 low symbols, being the first group integrated by monsters, and the second one by letters. Apart from this there is a wild, a scatter, and a scatter wild which help to exponentially increase your winning possibilities. The wild substitutes all of the existing symbols except for the scatter and the scatter wild, and getting 3 or more of this will grant you a multiplier of 30 times your bet.
Though there's not a free spin symbol, these are triggered by the scatter and the scatter wild; this is, by getting 3 scatter symbols 5 free spins will be triggered, and while this occurs (only during free spins) scatter wild symbols will appear to multiply by 2 the free spin win. If more than one scatter wild is present in the same winning combination their multipliers are combined.
Conclusion
Technology is not only a theme in this video slot game; it is also a feature the game developers wanted to include so as to make the game more secure and problem-free. Why do I say so? Simply because the recovery options are as cool as the eye drone symbol is. If by any chance you are interrupted or the game gets terminated abruptly when the "collect" button is offered, there is nothing to fear. The game will properly credit your balance to your account, plus, once you are ready to return you can pick up where you left off.
This game will give you fun out of this planet. Your bets can be enhanced at any moment with the eye drone and you'll get to know the coolest monsters ever. What are you waiting for?