Game Landing Pages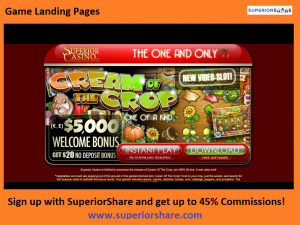 When joining an online casino, players will tend to choose a game with a theme that they are passionate about – or at the very least, a game that has captured their attention in terms of theme and/or design. However, a savvy and successful casino affiliate program will always aim to promote these games individually with a personalized landing page. However, what are these custom-made landing pages all about?
If you're a gambling affiliate, you want to use marketing materials that are custom, one-of-a-kind and will target the right audience. A game landing page is carefully designed to include images evoking what the game in question is all about. For instance, if the slot deals with a New Year's Eve theme, such as the popular Reel Party Platinum video slot, you can expect a landing page possibly with the background image found in said game or perhaps the main characters or images that appear on the reels. Also, you might also get a screenshot of paytable or the reels being spun.
Furthermore, casino affiliates will also make sure that you get to promote each game individually with a specific promotion, such as the casino's Welcome Bonus or a slots-themed promotion that's going on. With these personalized game landing pages, your players will get a glimpse of the game title and theme before trying their luck.
Individual game landing pages are a great and fruitful way to attract players (existing and new) to play old time favorites as well as new slot games. To make it easier for you and your casino affiliate programs, these landing pages are unique and aim to help you with player conversion.
Don't hesitate to contact us for more information about how to promote our casino games with individual landing pages and for more valuable marketing material.