"For Love and Money" Video Slot Revamped and US aff's echecks
We have good news. Today, September 2nd, Superior Casino is re-launching the existing VIDEO SLOT "FOR LOVE AND MONEY". Graphics and animations for this slot have been completely revamped!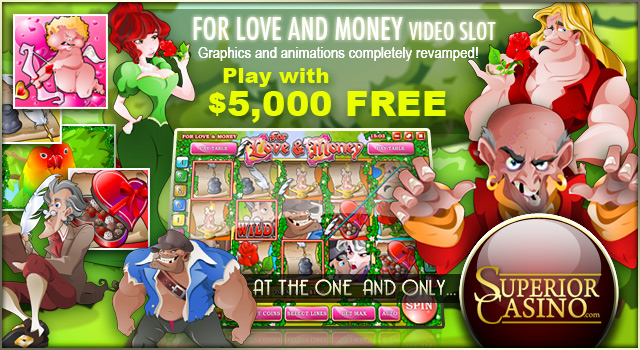 "This is a video slot with the classic tale of a young defenseless maiden being attacked by two thugs. A stout handsome man comes to save her at the nick of time. This tale is the creation of a famous poet, creating a story that he'll be able to sell for thousands. While you play this game with all its fun characters, you'll get a chance to earn literally thousands of coins. Love and Money features sets of Free Spins with a 3X Multiplier! The Free Spins can be activated again within the original set of Free Spins, so you can continue spinning the reels without risking a single dime. The poet icon is wild, so it will help you create winning lines much more easily!"
We have built banners in 468×60 and 125×125 both available now at the Member's Area

New payment method for US Affiliates
We correct ourselves from last newsletter. Superior Share is proud to inform that *echeckUS is now available as a payment method for our affiliates residing in the US since wire transfer is no longer an option.

eCheckUS is the new option for US Affiliates.

*In case you're not using Quicktender or EWX

If you are interested in receiving a physical check with your commission payments. Please go your your profile and select eCheckUS as payment method.
2 Important things:
1) Make sure to have the correct home or office address in your profile so we can deliver the check properly.
2) When you change the Payment Method to eCheckUS, you will be asked for the Payee's name for the check.

Please specify if you'd like to receive the check on your own name or on your Company's.
May you have any questions or need any additional marketing tools or content for our revamped slot, For Love and Money, please contact us and we'll be pleased to help.
With kindest regards,
Superior Share Marketing Team