Five Times Wins Keeps Growing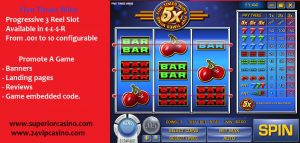 Five Times Wins Slot is a simple, yet rewarding classic slot that's evocative of the all-time favorite and loved one-armed bandits. Featuring only 3 reels, 1 payline and traditional symbols like cherries, 7s and BARs, Five Times Wins radiates a unique old school look and feel.
If you're feeling melancholic and would like to take a slot machine out for a timeless spin, Five Times Wins is the perfect game. Even while this slot displays no special games or bonus rounds, you still have a chance to claim a huge rewarding jackpot.
Symbols and Design
The design and symbols featured in Five Times Win are certainly a crowd pleaser. This is especially true when it comes down to those players looking for a more relaxed and simple game, without massive special effects, 3D graphics or intricate bonus round games.
Five Times Wins only features 3 reels and 1 payline and these are packed with the most traditional images from the golden era of gambling such as 7s, cherries, BARs and the 5x logo.
The reels spin is the same way a land-based slot would and mimic the sound effects of the real world slot games too. Play Five Times Wins directly from your desktop or preferred mobile device and experience an old-fashioned casino game in every aspect.
Special Features
When it comes to traditional slots, the mail goal is pretty simple since all you need to do is match 3 symbols in the payline.
In Five Times Wins the lowest value symbols are the BARs, beginning with a mixed set of 3. The Blue BAR symbols are worth 15 coins when landing 3, landing the same amount of green colored BARs pays out 30 and 3 red BARs pay 45. Moreover, the 7 symbols follow a similar structure. Land 3 of the blue 7s to collect 60 coins, 3 of the green colored 7s pay 90 and 3 reds award 120. The 5x or Five Times Wins logo multiplier symbol is the most important icon in this game since landing 1 pays a whopping 1500 coins, 2 are worth 3000 coins and 3 pays a great 5000 jackpot amount.
Contact SuperiorShare for marketing tools that can help you to promote games individually.