Book of Spells Slot – Tom Horn Gaming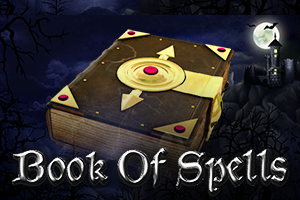 Is there anything more exciting than magic? I don't think so. In a world where witches and haunted castles are real, your own book of spells is the most valuable treasure you can have to conjure your way to winning. Book of Spells by Tom Horn Gaming, is a fun video slot game themed in this magic world full of scary things that can turn out to be quite useful when it comes to getting the right combinations. Let's open up the book!
Do you dare to trespass?
The background image of the game consists of a dark night set where the old creaky trees inhabited by crows and owls are the entrance to the fairway haunted castle while the creepiest laughter of a witch welcomes you. If you are brave enough to come in, you'll be thrilled by the most exciting view being the full moon your main source of light in this dark night. The graphics of this game are designed to portray witch's best implements: potion ingredients, a bubbling cauldron, their stylish yet creepy hat, and definitely their spell book. The soundtrack of the casino game is a compilation of night sounds such as crow yells providing this tense and spooky atmosphere. So, are you ready to shout out your spells? Let's keep on breaking this game down!
Bewitched board
Thrilling fun is guaranteed in this video slot game and the rules are simple. There are 9 fixed win lines among the 5 reels and 3-row window. You can choose the lines you want to bet on as well as the amount of the bet. In order to do so you will have to click on the +/- buttons placed on the left and downer part of the screen, the bet amounts are 0.02 €, 0.05 €, 0,10 €, 0.20 €, 0.50 €, 1 €, 2 €, 5 €, and 10 €. Apart from these buttons you have an exit button shaped like a house on the bottom left corner, next to it, there's a menu button by clicking on it you access the game options and if you are not so sure about the game rules, click on "help" and a box will pop out to explain in detail how the game works. There's a credit box recording your casino winnings, and next to it on the right you will see the spinning buttons: Spin, Autoplay (you decide how many spins it'll roll from 5 to 100) and Betmax (desktop only) that will override your current bet and lines selection, setting the maximum numbers available. Finally, on the bottom right corner, there are 2 last buttons, one with a speaker symbol on it which you can use to turn on and off the music and sound effects, and the "i" button for when you are not certain about the payout information, clicking here will show the paytable.
Book of Spells features
This game has high symbols such as a witch's hat and a bubbling cauldron. It also has low cards which are letters and numbers designed to follow the game spooky theme. The spellbook is the wild symbol, and if you are lucky enough to conjure the right spells, the book will open up to become an especial expanding symbol that takes 3 slots of the reel. Getting one or more of these magic books or the especial expanding spellbook will maximize your chances to win.
Free Spins come in a series of 10, and they are a real jewel since once they're triggered they can be re-triggered again. Such wonderful things magic can do, don't you think?
Conclusion
No potion or bewitchment can prevent you from having the most fun on this game. Its creepy theme and colors as well the scary sounds and music will give you goosebumps, but don't worry, you are not alone in this haunted castle, your magic book of spells will allow you to take out any trouble found on the way and certainly, the re-triggerable free spins help you win big time.