Bitcoins and our future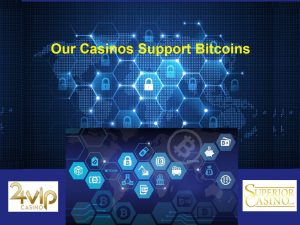 More and more people are realizing that digital currencies are certainly not going anywhere with market experts believing Bitcoin isn't even close to its potential of a mind-blowing $600,000 per coin by the year 2030 – the coin's market cap year.
One of Bitcoin's most distinctive features is the fact that it is decentralized, which helps explain why this particular cryptocurrency is becoming the payment option of choice for bettors at online casinos such as Superior Casino and 24VIP.
Folks at our casinos have dedicated the last few years to understanding Bitcoin and bringing it on board with the absolute certainty of its safety and security for players, knowing that each transaction on the Bitcoin network is protected by state-of-the-art encryption technology that guards members' personal details.
It is nearly impossible to hack into a Bitcoin wallet, making the cryptocurrency one of the most secure payment options to make a deposit and withdraw winnings. Moreover, Bitcoin transactions are anonymous, which makes it unfeasible to find personal data related with the cryptocurrency transactions, thusly protecting players' identity and giving them the chance to play from anywhere.
With increased acceptance with every passing day, including among mainstream financial systems and with the rise of members choosing to deposit and withdraw their wins using Bitcoin, it is safe to say that the cryptocurency is here to stay with its unique technology in the online gambling market proving to be beneficial for all involved: players, affiliates and operators.