Announcement: Winsanity Slot is now Live!
ANNOUNCEMENT – NEW SLOT GAME
WINSANITY
There's nothing better after a long day than to enjoy a well-deserved run in Superior Casino, 24VIP Casino and 888 Tiger's new classic-styled slot game WINSANITY. This new slot is a colorful explosion of sparkly wild icons, bright stars and crazy rewards will fill the screen in this traditional 1-line, 3-Reel Slot.
Winsanity is an easy to play slot that features the traditional seven and BAR icons. Each time any of the three wild BAR icons are matched, a crazy reward is given to a lucky winner. The 2x wild appears on the first reel, the second reel wild awards 4x, and the third reel wild gives 6x to bettors. If all three wilds are matched, winners are bound to go insane by hitting a huge jackpot.
The available coin sizes in Winsanity range from 0.01, 0.05, 0.10, and so on up to 25 (configurable). Bettors can use from 1 to 3 coins wagered per line and the default wager configuration is $0.50 coin × 3 coins per line × 1 lines = $1.50. The default jackpot amount is per 1,000 payout (coins) is $1,500, while the maximum jackpot per 1,000 payout (coins) is $75,000.
Have players go WINSANE while playing this stylish and colorful title and hitting the high jackpots this game offers. The promotion holds a 25x playthrough requirement before players can request a withdrawal with a cashout max amount of $150. There's a cap of $0.05 per spin.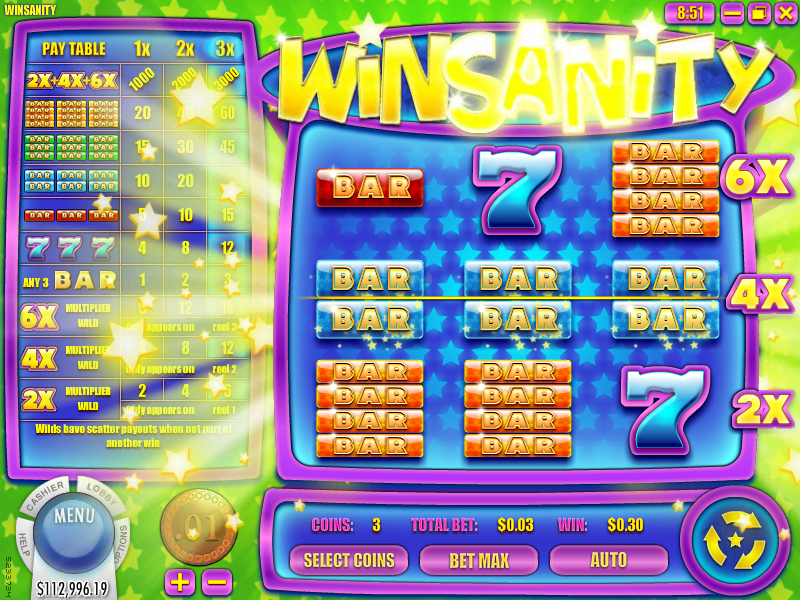 If you have a forum or opt-in mailing list, we would like to discuss with you on how to promote this new game with your members.
Login to SuperiorShare and download your banners today!
Connie Burstin 🙂
SuperiorShare Affiliate Manager