Announcement: New Game Plunk-Oh Slot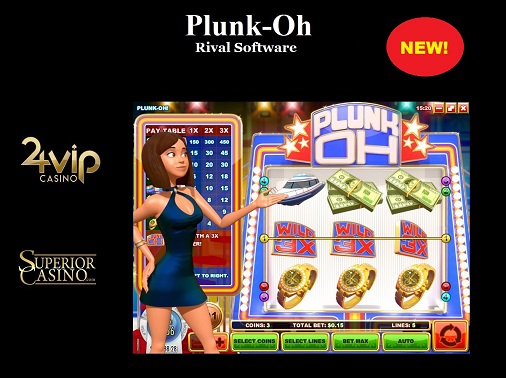 In honor of one of the most popular pricing games in television, 24VIP and Superior Casino welcome a brand new slot to the mix: Plunk Oh. Your players will want to come on down and spin the reels of this fun game where luck and prizes collide.
Plunk Oh is a colorful game with just 3 reels but 5 paylines that are packed with opportunities for the creation of multiple wins with assistance from exciting symbols. The game is available for desktop and mobile devices, which is a perfect opportunity for players to enjoy on the go or wherever they may be.

Players will turn into game show contestants as soon as they hit the spin button of Plunk Oh. Amassing wins is easy with special symbols that simulate the most common prizes a television show usually awards. The winning icons include a Gold Watch, Cruise Tickets, a Motorbike, a Gold Ring, a Sports Car, a Luxury Boat and a stack of Cash. The Wild Plunk Oh logo is the highest-paying symbol and helps collect up to a 450 coins jackpot with 3x multipliers.
The available coin sizes in Plunk Oh range from 0.01, 0.05, 0.10, 0.25, 0.50, 1.00, 2.00 and up to 5.00 (configurable). Players can use 1 to 10 coins wagered per line and the default wager configuration is $0.10 coin × 3 coins per line × 5 lines = $1.50. The default jackpot amount is $45 and the max slot jackpot is $2, 250.
Your players could be the very next contestants to try their luck at Plunk Oh. Feel free to contact us to promote this online slot with custom-tailored marketing material such as landing pages, banners and more. Some of the most exciting prizes are happening on the reels of Plunk Oh – a slot game packed with fabulous prizes!
If you have a forum or opt-in mailing list, we would like to discuss with you on how to promote this new game with your members.
Login to SuperiorShare and download your banners today!