Announcement: New Game Almighty Dollar
ANNOUNCEMENT
ALMIGHTY DOLLAR
September 12th
There are many kinds of deities in the world and the Almighty Dollar is one that's adored by many. 24VIP and Superior Casino is welcoming with open arms a new heavenly slot featuring celestial images and enormous winning possibilities for all bettor types.
Almighty Dollar is a simple yet rewarding slot that features exciting chances of wins encompassed in 3 reels and 5 paylines. This rewarding slot game is available for Instant Play right from your players' preferred browser.
Players will be worshiping the Almighty Dollar as soon as they hit the spin button of this fun slot. Your bettors will be quickly transported up to the one and only heaven of winning combinations with special symbols like the Free Spins icon that awards between 7 and up to 21 Free Games. Plus, wins are also up for grabs with the Wild symbol that has a 3x multiplier.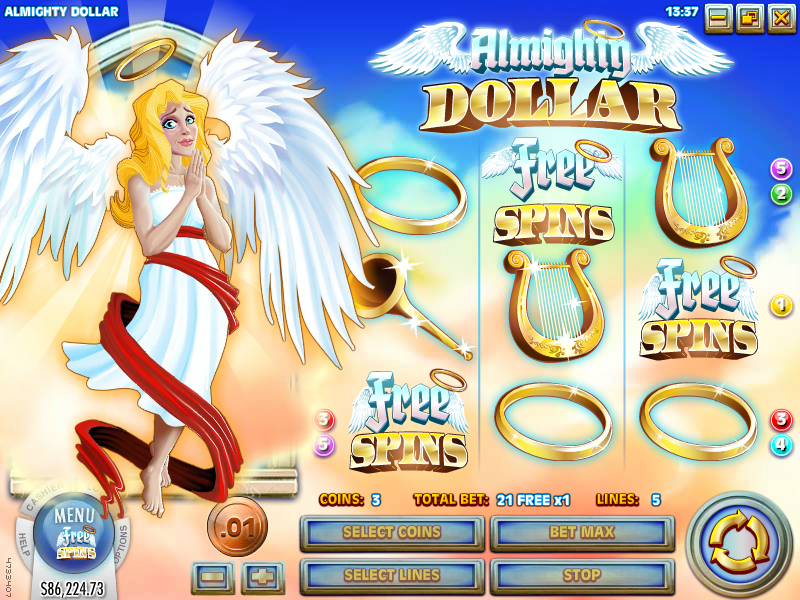 The available coin sizes in Almighty Dollar range from 0.01, 0.05, 0.10, 0.25, 0.50, 1.00, 2.00 and up to 5.00 (configurable). Players can use 1 to 3 coins wagered per line and the default wager configuration is $0.10 coin × 3 coins per line × 5 lines = $1.50. The default jackpot amount is $45 and the max jackpot is $2, 250.
The gates to the heaven of slots wins are wide open to all players that spin the reels of Almighty Dollar. Feel free to contact us to promote this slot with custom-tailored marketing material such as landing pages, banners and more. A celestial invitation has been sent for your players to spin Almighty Dollar – a game packed with high winning chances and glimpses of paradise.
If you have a forum or opt-in mailing list, we would like to discuss with you on how to promote this new game with your members. Please, contact your affiliate manager for more details.
Download your Almighty Dollar banners on September 12th at SuperiorShare.com