Announcement: New Game!
ANNOUNCEMENT – NEW SLOT GAME
FRUIT SPLASH SLOT
Some say fruit is what makes life sweeter, while other believe that sweetness comes from collecting massive amounts of wins and prizes while spinning the reels of a colorful slot like the new Fruit Splash! This any-way 30 paylines and 5-reel slot is available for a sweet-good time on Download and Instant Play as well as all mobile platforms.
Time to plunge head first towards the winning reels of Fruit Splash where appetizing symbol combinations turn into juicy rewards. These wins occur with help from classic suit icons as well as delectable oranges, blueberries, kiwis, strawberries, raspberries, cherries, blackberries, apples, and limes.
Fruit Splash makes winning an easy job to accomplish with the Sticky Wild starfruit symbol, which remains fixed on the screen to trigger yet another spin for even more chances of landing wins. Additional fruity prizes are possible with further sticky wilds that trigger extra spins with a burst of fruit flavor!
The available coin sizes in Fruit Splash range from 0.01, 0.05, 0.10 and up to 0.25 (configurable). Players can use 1 to 10 coins wagered per line and the default wager configuration is $0.01 coin × 8 coins per line × 30 lines = $2.40. The default jackpot amount is $40, and the max jackpot is $1,250.
Bright colors, extra sweetness and giant winning chances are all part of Fruit Splash – the new any-ways pay slot that's overflowing with flavor and prizes. Feel free to contact us to promote this slot with custom- tailored marketing material such as landing pages, banners and more.
Fruit Splash Slot is available at Superior Casino, 24VIP Casino and 888Tiger Casino.
If you have a forum or opt-in mailing list, we would like to discuss with you on how to promote this new game with your members.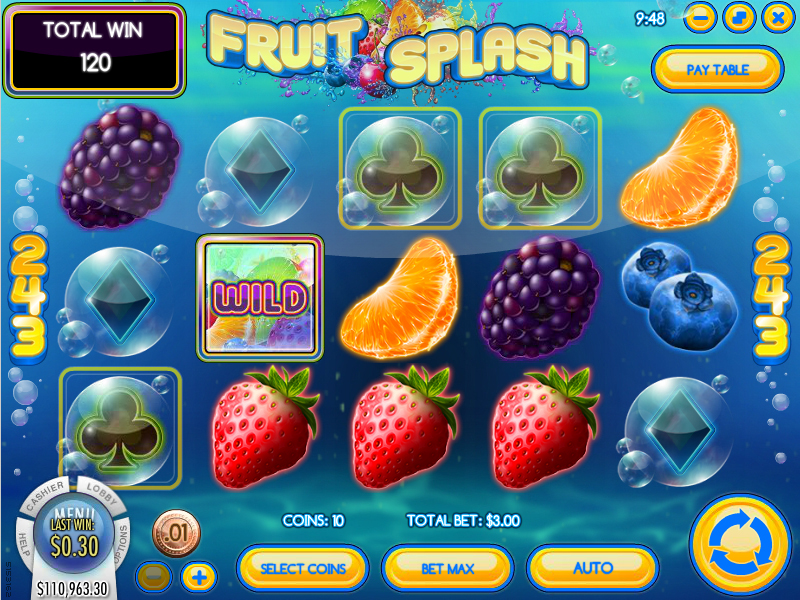 The SuperiorShare Team