SuperiorShare November Newsletter
SuperiorShare November Newsletter
• Casinos News & Updates
New Game:
Superior Casino and 24VIP Casino have just added the new Dark Hearts slot game to their already fantastic selection. Your bettors will be spending some time with two handsome vampires and their love interest in this new All Ways Pay slot. Players can wager up to 10 coins per line and each coin can be spun at $.01 to $.25 each for a minimum bet of just a penny and a max bet of $2.50 per spin.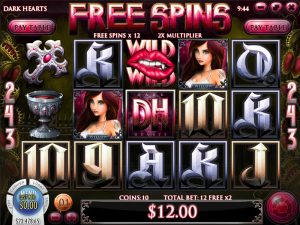 With the unique Players Choice Chamber feature, bettors can win Free Spins with huge multipliers. Once players enter the chamber, they'll be able to pick between the two vampires, Viktor or Marcus, or the red-haired Willow, for 30 free spins with a 1x multiplier, 10 free spins with a 3x multiplier or 15 free spins with a 2x multiplier, respectively
Weekly Promotions:
It's no secret that Superior Casino and 24VIP Casino both like to spoil players with unique bonuses and promotions tailored specifically to the current season or holiday. In honor of Halloween celebrations, your players were able to enjoy heaps of Scary Rich 2 and Dark Hearts Free Spins and more spooky-themed offers.
As winter draws in and with Christmas and the holiday season just around the corner, you'll be able to promote our casinos with tons of fantastic offers covering the festive period.
Be sure to check Superior Share's promotion calendar to take a close look for full details of all the promotions available for the upcoming holiday season.
Holiday Season:
Halloween is now behind us, but we're sure it still rings in the minds of your players with the hundreds of Free Spins offers available on the popular Scary Rich 2 and the new Dark Hearts slots. The scary good times continue now that the holiday season is nearing in. Yes, it's soon going to be the most wonderful time of year and we want you to bring on the warmth of the Christmas period by promoting our most popular holiday themed slots such as the fun 3D slot 'A Christmas Carol' and the popular video slot 'Winter Wonders'.
Christmas and seasonal festive banners and promotions will soon be live for full use. Be sure to login to check out the latest promotional material to help encourage traffic.
Winter Wonders By Rival Software
Christmas Carol by Betsoft Software
Bonuses:
Did you know that all our casino bonuses are instant? In other words, the bonuses you're offering your players will be instantly credited in their casino accounts without them ever having to enter a bonus code or contacting customer service.
There is no need for players to send an email or contact customer support via Live Chat if they are using the right tracking URL. Moreover, players don't ever have to enter a bonus code either, so the whole process is truly hassle free and immediate.
• Program News & Updates
Progressive Jackpots:
As the festive season begins, Superior Casino and 24VIP Casino players are drawn to some of our most popular slots, which include our Progressive Jackpot games. Money Magic, Major Moolah, Strike Gold and One Million Reels BC offer some of the richest online payouts with a continuously growing pot.
Be sure to use our special Progressive Jackpot landing page and begin promoting these games for your players to enjoy each day in the lead up to Christmas. You'll need to login and set up a Superior Casino Progressive Jackpot campaign designed to keep your players jolly and enticed with our holiday-laden jackpots. If you have questions, regarding the progressive jackpot landing page, please contact Connie at connie@superiorshare.net
New Game:

Superior Casino and 24VIP Casino have been pumping out new games recently giving your players even more choices with new themes and exciting bonus rounds, further adding to our casino's impressive slots collection. Dark Hearts is a gothic 243 way pays slot, with 5 reels, a vampire theme and huge free spins and multiplier winning opportunities that will surely grab the attention of all bettor types. Make sure to use our fantastic banners designed to promote this fun slot.


Moreover, don't be shy to ask about other media available to promote Dark Hearts such as game screenshots, game information, logo, videos and more.
Affiliate Account Information
Keeping your affiliate account up to date is vital, especially when you happen to be looking for your next payment. Make sure to update your payment details by accessing Superior Share. If your account happens to be set for a wire transfer, please login and verify to see if you are all up to date and if not, drop in your wire payment details so when the time comes we can pay you on the dot.
Affiliate Referrals
Superior Share offers its affiliates the chance to market their program to other prospective affiliates, which in turn gives you a huge boost to enhance your earnings potential. Claim a 10% of the net affiliate commission earned by your referred affiliates and watch your earning grow at the end of the month.
Be sure to visit our re-designed Superior Share website for access to our latest banners you can use to promote our casinos.

Social Media
We have a new Facebook account "SuperiorShare Affiliate Group". Come by and Like Us. Our Instagram and Twitter account got a facelift as well. We make sure to keep you posted with all the latest information about our program and online casinos.
Facebook: SuperiorShare Affiliate Program
Instagram & Twitter: SuperiorShare
SuperiorShare Affiliate Team